---
Toon Leader

Posts: 2014
Joined: Sun Oct 26, 2008 11:27 pm
Title: The Bombadil
Location: 127.0.0.1
Contact:
so here's the track listing from the preview clip that got posted earlier.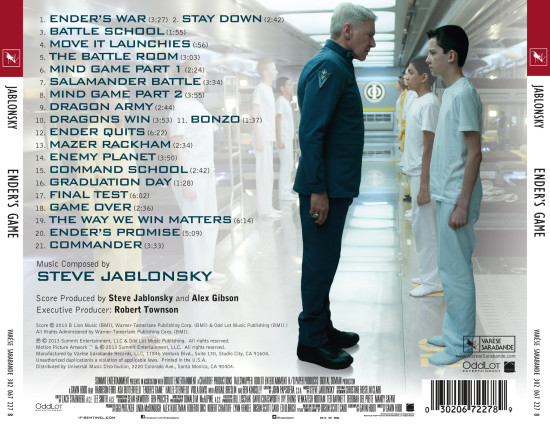 Notice that after "Game Over" we have "The Way We Win Matters", and "Ender's Promise" (and "Commander"). I'm gonna guess that Ender's Promise is the encounter with the Hive Queen cocoon. Any takers?
"But the conversation of the mind was truer than any language, and they knew each other better than they ever could have by use of mere sight and touch."
---
Former Speaker

Posts: 1017
Joined: Sat Oct 21, 2006 4:44 pm
Title: Battle School Engineer
Location: MD
Contact:
Bland, repetitive electronic parade music. Anyone else care to critique? I find more variation in any piece by Phillip Glass.
--Boothby

"The biggest cause of trouble in the world today is that the stupid people are so sure about things and the intelligent folks are so full of doubts." - Bertrand Russell
---
Launchie

Posts: 19
Joined: Sat Sep 14, 2013 11:50 am
Not much of a fan, but it could have been 10x worst. I had hopes that they would have gotten someone like James Horner or Hans Zimmerman. But oh well.
---
Toon Leader

Posts: 764
Joined: Sat Sep 30, 2006 8:21 pm
Title: Secret Agent Man
First Joined: 0- 0-2000
Location: USA
I didn't hate it, but it was not at all memorable. I am HOPING that it's because all the real "catchy" stuff is just cut out by the short samples. I don't want kitsch, but it would be nice to be able to say "Oh yah, that's the EG soundtrack!" like you can with nearly any John Williams, or others mentioned above.
Share this dragon - If you do - Lucky end - For them and you! Petra
---
---
Return to "Ender's Game Movie News and Discussion"
Who is online
Users browsing this forum: No registered users and 2 guests