So, as anybody who has spoken to me recently is very aware, I've been spending a ton of time at the zoo lately. And I am totally in love with the place. So, in order to document my adventures there, I decided to create a thread. And then I thought, "And it should be for anyone to post in who goes to cool places and wants to talk about the experience!" Hence, the title.
Before I start in on my daily adventures, I thought I'd give Pweb a tour of my usual zoo walking experience. Most of the following pictures are from the past two zoo trips, but I do have a few from different excursions.
I swear, most of my posts will not be this long or pictureful. I just have wanted to take people on a tour forever. So, here it is, Kirsten's Daily Sedgwick County Zoo Experience.*
*
minus the chimps or most of the Africa animals, because I went late in the afternoon these two trips and they were off exhibit
.
To start off, right by the entrance, we have the flamingos. I sometimes ignore them, sometimes enjoy watching them.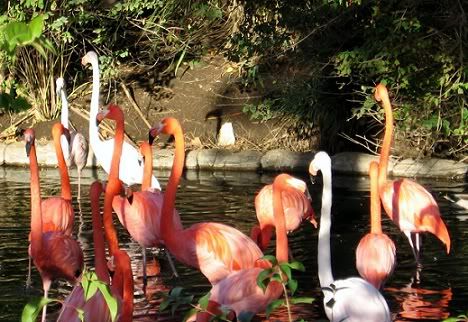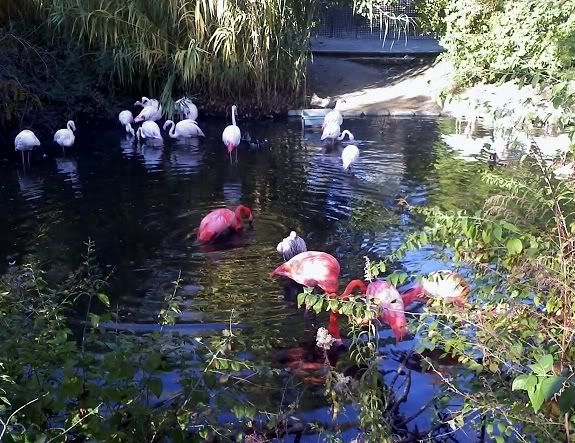 Onward! Past the petting zoos and to the penguins! Recently when I went, there were three peacocks -- two female and one male -- wandering around up by the penguins! I didn't get a good picture of all three, but here's the male in front of the penguin tank.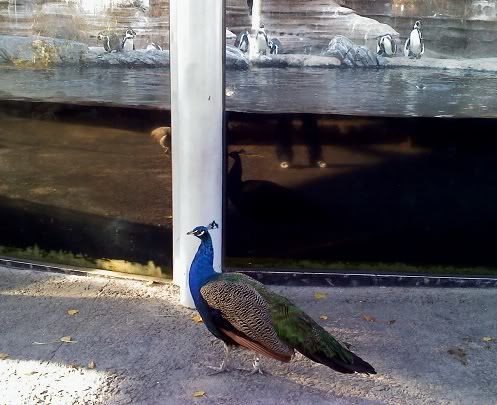 Today they were nearly all swimming when I got there! Plus I got there late enough to hear the zookeeper talk about them. I now know how to tell chicks from grown-ups.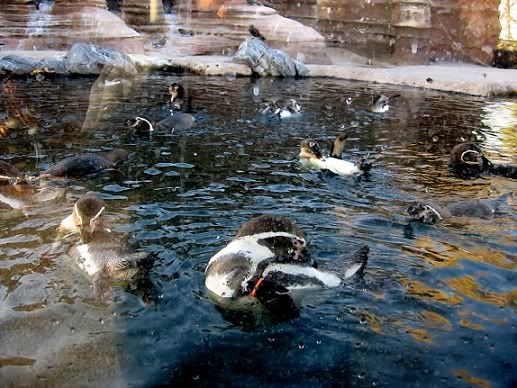 I usually skip by the Reptile and Amphibian building and the Jungle building, because 1) they're cool, but don't interest me that much, and 2) part of my going here is for the purpose of being outside. And it takes awhile to walk through those.
And, plus, my favorite part is coming up! North America!
First the grizzly and the black bears. The grizzly bear cave is a nice place to sit when I'm winded, and they're down there a lot lately. (Keep TRYING to get a picture of them up top so it doesn't look like they're always encased in stone, but no luck.)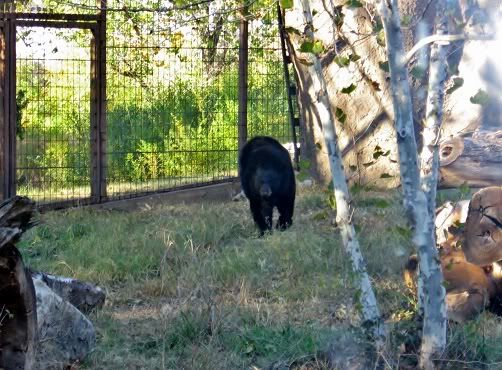 And then the otters! They are my favorite non-cat animal. And they are SO active lately. I think it's the weather. They even went down their slide today! And they squeak at me more often than not, lately.
The first trip, I was just using my camera phone, so I couldn't get any decent pictures. Most of my pictures were like this: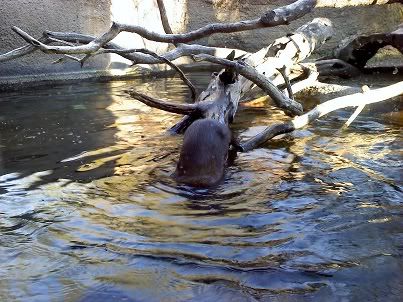 Today I had better luck, and got the following: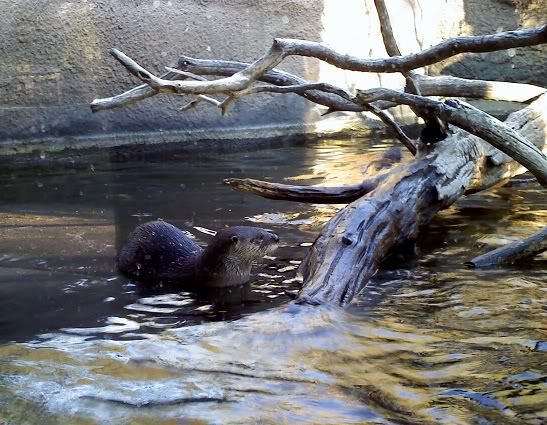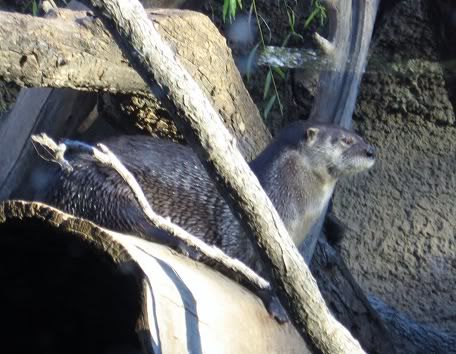 And then it's a hike through the North American portion of the zoo. Now, the reason I love this potion is that, basically, it's like walking through a really pretty wooded park that just happens to have bison and eagles and cranes and such. Lots of wood bridges over rivers and streams, and I tried to capture some of the experience.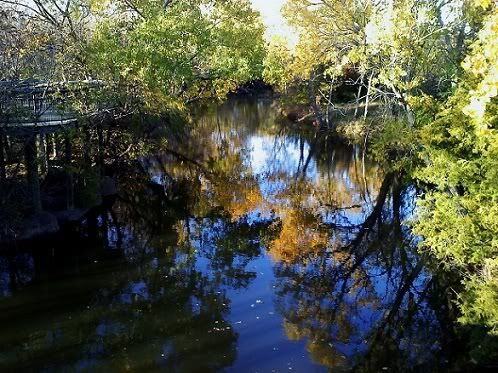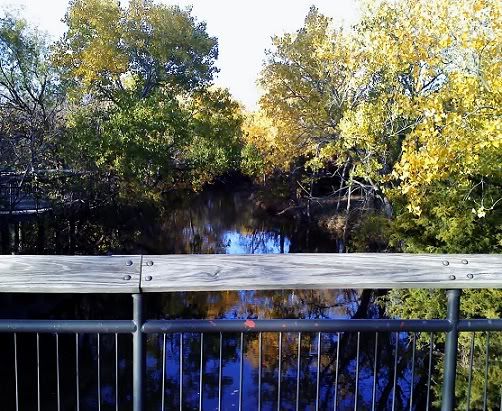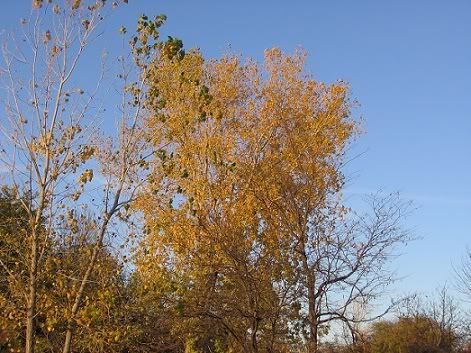 And, yes, animals.
The very image of patriotism:
Female elk looking bored:
The pronghorn have been a lot less shy lately: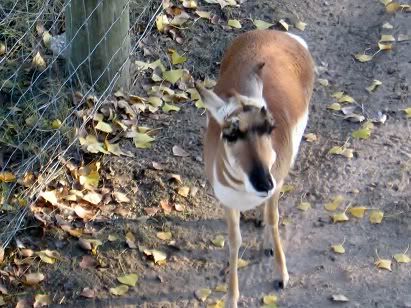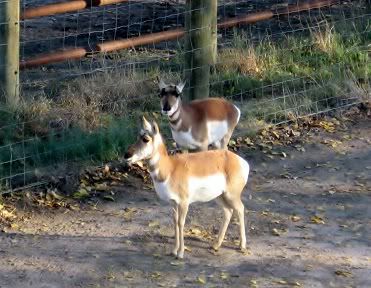 The view of the top of a bison head from a bridge: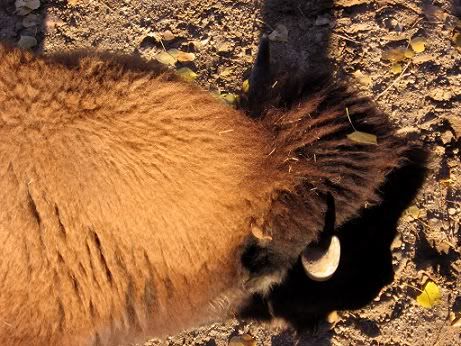 And sandhill cranes: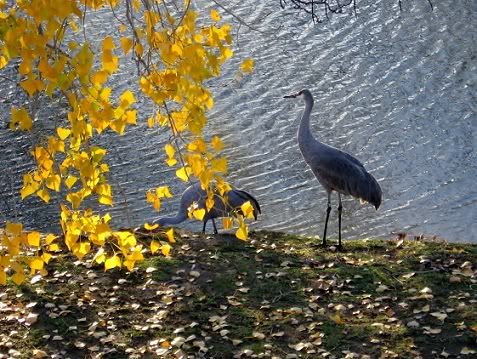 Finally, there's the cougar. Now, she's at the end of the trail, and the trail doesn't lead anywhere else -- just loops back, kind of a dead end. So, we make a point to visit her since we're not sure everyone else does. She (well, they) is/are in my top three animals. Sometimes she'll meow or growl at me. It is fabulous.
Today she was just chilling in the den, though. Sleepy-like.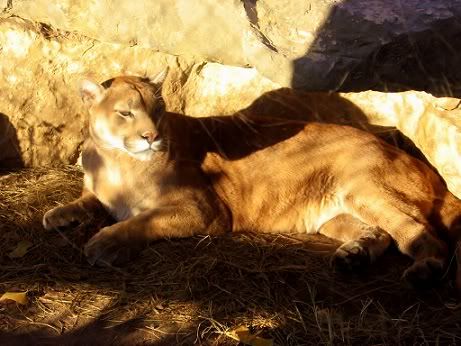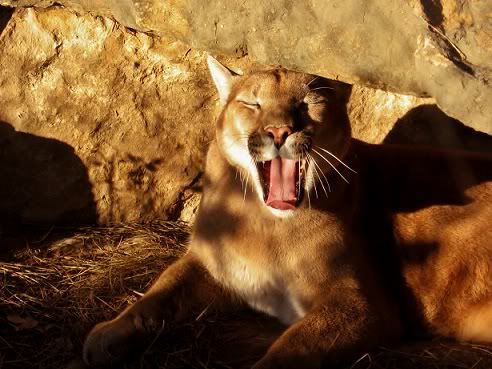 And then, at the end of all this walking, there is a sight I am always glad to see -- my regular bathroom stop.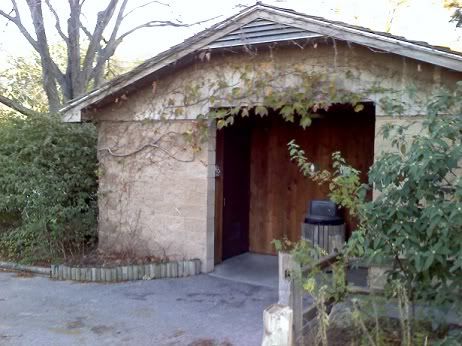 I don't always, but today I went walking in the Asian forest. Lots of birds. I got a picture of a bunch of non-Canada geese.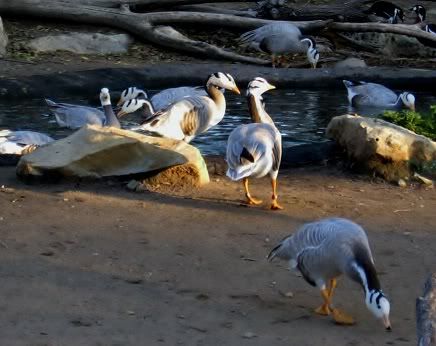 And then the leopard. She's an Amur leopard and has beautiful green eyes. Sometimes she's busy pacing, other times she rests. She made the news a few months ago for biting a little boy who went over the safety rails. I'm thankful they didn't euthanize her. I'm not surprised if an animal was going to bite, though, that it was her. She's pretty high strung. But, you know, you might be edgy, too, if there were only 30-35 of your kind left in existence outside of zoos.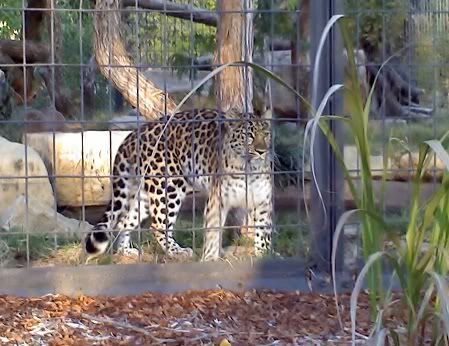 Then -- the TIGERS! Lately, the Amur (Siberian) tigers have been on public display. A huge boy named Ivan and his girlfriends, Talili and Zeya (sisters). There are two male Malaysian tigers, as well, although they're going to be placed with another zoo soon. Ivan -- I WISH I'd had my phone or camera the days I've gotten to get really close to him. His size is not to be believed and he is not even quite full grown yet. My hand is dwarfed by his paw.
Napping Ivan:
One of the females: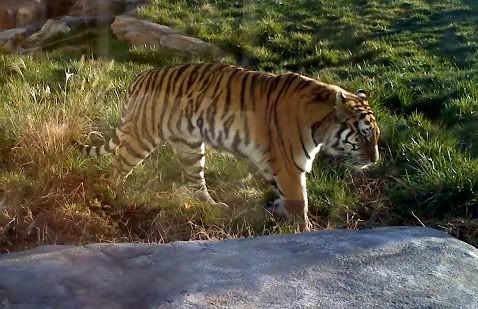 A picture from a few months ago of one of the Malaysians (I think).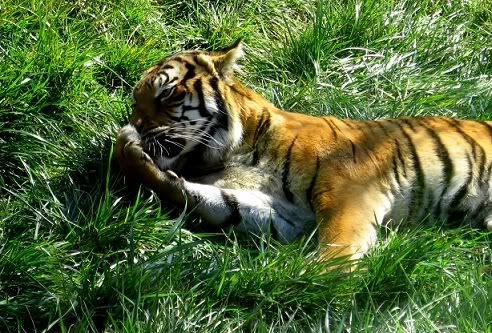 After the tigers, I walk to see the gorillas if I am feeling ambitious, as it's a bit of a trek. Sadly, I didn't get any pictures of Okapi along the way, but I did get a picture of these storks. They say their cousin is looking forward to visiting us in a few months.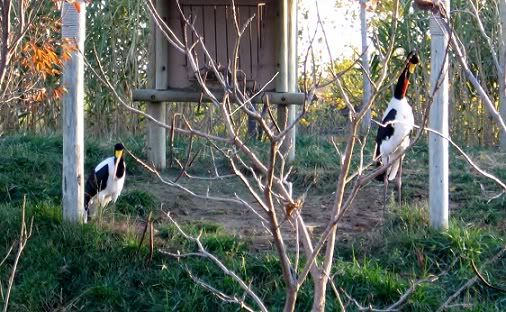 Also saw this crazy looking crane on the way. Although, really, I am in love with the ordinary looking mallard behind him.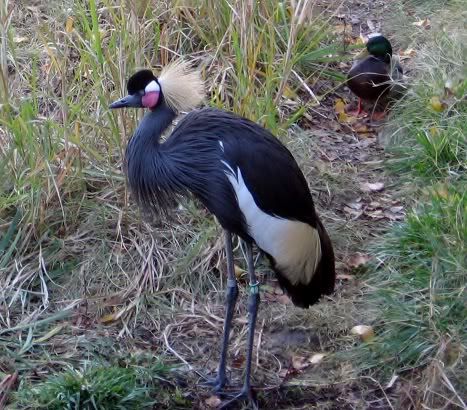 Gorillas! I tell you, I was alone in the exhibit building, it was dark, and that gorilla in the shadows was a little on the spooky side, today.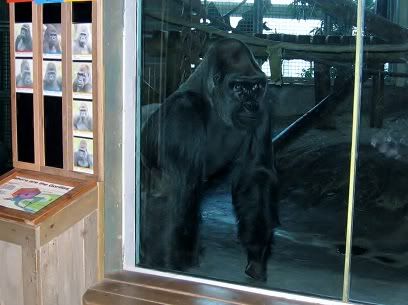 And, then, the LIONS!
The lions have a cub who is SO playful and awesome and interactive. She has big brown eyes like my Reece used to when he was a kitten. She was having a blast on my visit before last pawing at a little boy's feet and following him around right up by the plexiglass. Cutest thing EVER.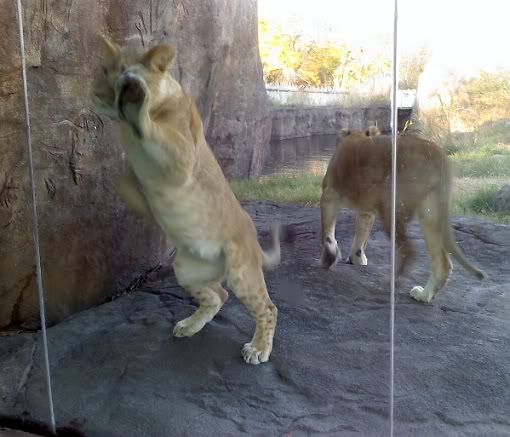 Her mom was actually ROARING at someone that day. I've never heard a zoo tiger roar before, but the pride who was not on display and she were having a back-and-forth conversation.
Tiger cub when the little boy went away. So sad!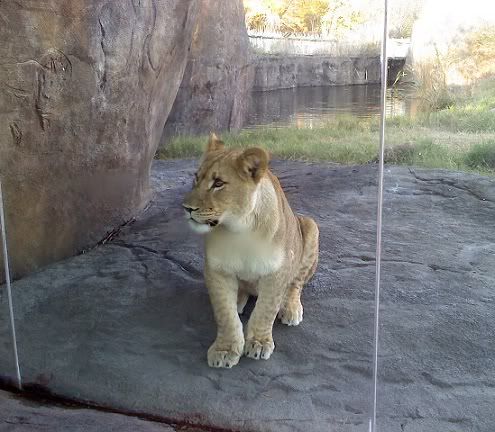 Sadly, I don't have any pictures of the latter part of my walk. There are caracels and then either chimps or zebras/giraffes, depending on which way I go.
I did, however, get a nice picture of this bridge which is near the entrance/exit.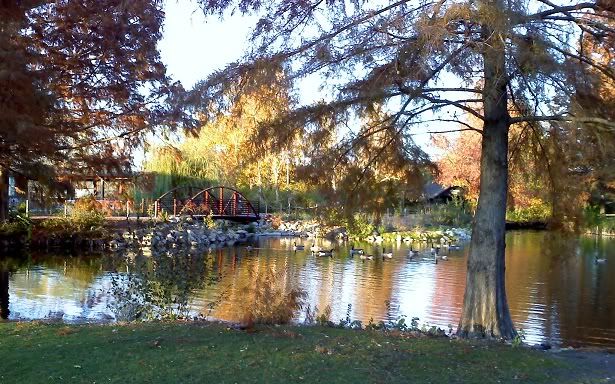 And that is your tour through my regular zoo walk! So, now when I have cute stories, you will have a little context. Hope you've enjoyed!
(I SWEAR, I will never post quite this lengthy about it again. But I keep imagining showing people around, and this was the closest substitute I could manage! It's the place I feel most at home here, honestly, and so, I want to show people I care for my home away from home.)