In a show of strength, the imperial stormtroopers are going to stage a militar parade in one of the spiritual capitals of the core worlds (incidentelly, the city where i live).
Furthermore, none other than Lord Vader will preside this event, to dispell once and for all the greatly exagerated rumours about his death.
This display of martial might is intended to instill fear in the rebel scum and restore the imperial dominion over the worlds that had been swayed by their lies.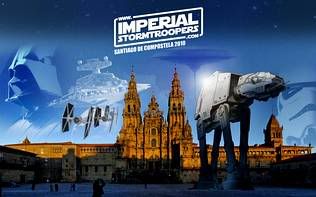 *
*our HD image has been sabotaged! Rebels, there will be retribution!
This is a twitting event that some guys are trying to organize for May 21st, to commemorate the 30th anniversary of "The Empire Strikes Back". Can't wait for it!
http://imperialstormtroopers.com/index_en.htm